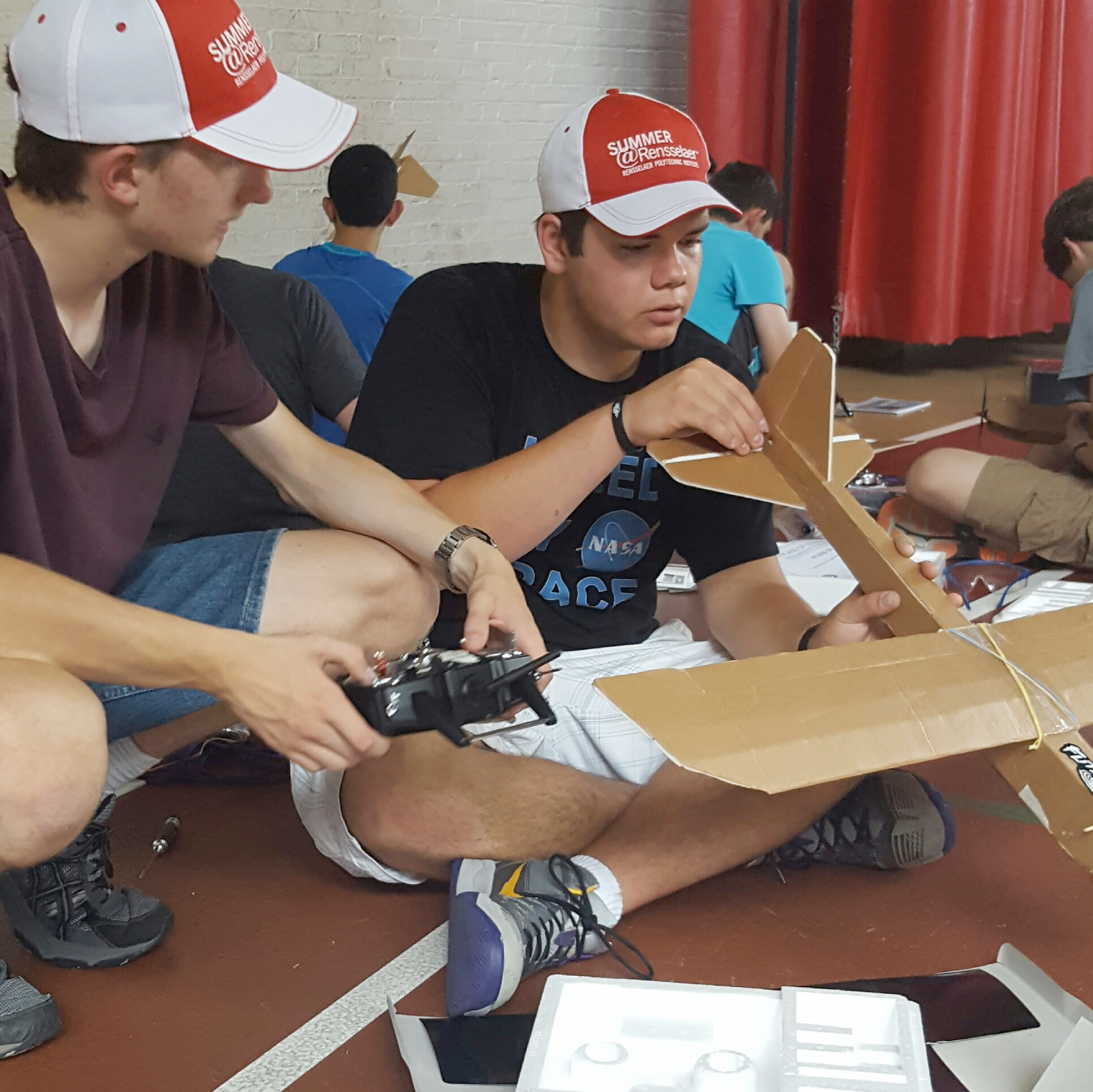 Take a closer look at aerospace engineering and learn the basic principles of aerodynamics and flight mechanics from RPI faculty who are leaders in the field.
July 13 - July 17, 2020 (Week 1) | July 20 - July 24, 2020 Week 2)
Rising 10th, 11th, and 12th graders explore the field of aerospace engineering, tour RPI's top-tier research labs and learn how experimental data is collected by running wind tunnel tests. Program participants will apply their new aerodynamic and flight mechanic knowledge by building electric radio-controlled airplane models for test flights!
Participants will also learn the basics of aerospace engineering through lectures and aerodynamic demonstrations and experiments in a lab setting, and will conduct various experiments on different plane models. In addition, students will design, build, and test two model airplanes utilizing their newly acquired aeronautical engineering knowledge, and will interact with Rensselaer's brilliant faculty, graduate researchers, and undergraduate students in the field.
Students who have completed this program have gone on to apply to the Aeronautical Engineering major offered by Rensselaer's School of Engineering's Mechanical, Aerospace, and Nuclear Engineering department. In addition to engineering degrees, students have gone on to study physics and other degrees offered from the Rensselaer's School of Science. For additional details regarding the Rensselaer undergraduate experience, visit the Office of Admissions at Rensselaer.
Program Details
Prerequisites: Students looking to explore a career in engineering, science, and/or physics are encouraged to apply for this program. Applications will be selected based on GPA, science/tech/engineering/math related activities, student response questions, and teacher reference forms.
Please note: Students should submit their online applications before sending any supplemental information. Once a student has been accepted into a program, they may provide supplemental information such as recommendation letters, transcripts, and so on. Note that documents can be photocopies and need not be originals. Please note that incomplete applications will not be reviewed, so be sure to follow the application directions carefully.
Registration information: Accepted students should register as soon as possible after admission. Once a student has been accepted, they will receive a link providing additional information.
Application link: https://rpi.regfox.com/apply-2020
If you have any questions on how to submit your application, please contact Summer@Rensselaer by calling (518) 276-6809 or via email.
Commuter cost: $850
There is a $425.00 non-refundable deposit required in order to reserve a student's spot in the program, once they have been academically accepted. This cost only includes tuition and program materials; commuters must furnish their own transportation to and from campus. Check-in will be on Monday morning and check-out will be on Friday, after a final presentation.
Residential cost: $1,835
There is a $425.00 non-refundable deposit required in order to reserve a student's spot in the program, once they have been academically accepted. This cost includes tuition, program materials, room and board, and all residential activities. Check-in will be on Sunday afternoon prior to the start of the program; check-out will be on Friday, after a final presentation.
Accepted students will receive information regarding accommodations, arrival/departure times, and full program details upon registration. Please note that all students will be required to submit health and medical information (including immunization records) before arrival on campus. All residential students must possess medical insurance.
Professor Michael Amitay is a Professor and James L. Decker '45 Endowed Chair in Aerospace Engineering and the Director of the Center for Flow Physics and Control (CeFPaC) at Rensselaer Polytechnic Institute. Dr. Amitay, who received his D.Sc. in Aerospace Engineering from the Technion, Israel Institute of Technology in 1994, was a post-doctoral fellow at the University of Arizona from 1994 to 1996. From 1996 until 2003, Dr. Amitay held several positions at GA Tech, the latest being that of Senior Research Engineer. He joined the faculty of the Mechanical, Aerospace and Nuclear Engineering Department in the summer semester of 2003. Professor Amitay's research interests are focused on active and passive flow control techniques and their applications in aerodynamics (airfoils, bluff bodies and mini and micro Unmanned Aerial Vehicles). Another research topic includes the application of flow control to particle-laden flows and sprays with applications in medical engineering (specifically in micro-dentistry).
Dr. Onkar Sahni is currently an Associate Professor in the Department of Mechanical, Aerospace and Nuclear Engineering (MANE) at Rensselaer Polytechnic Institute. Prior to his current position, Dr. Sahni was a research scientist/engineer at the Center for Predictive Engineering and Computational Science (PECOS) located in the Institute for Computational Engineering and Sciences (ICES) at the University of Texas at Austin. He received his Bachelors degree from Indian Institute of Technology-Bombay in 2002, and his PhD degree from Rensselaer in 2007. His research interests span modeling and simulation of coupled fluid flow problems involving turbulence and flow control. His research also puts emphasis on adaptive methods, extreme-scale computing and uncertainty quantification. In current and past research projects he has applied simulation-based tools in various real-world application areas including aerodynamics, cardiovascular flows, two-phase fluid flows, and wind turbines.
Additional program support: Design/Build/Fly is a student club from the School of Engineering that designs, builds, and flies remote-controlled airplanes and participates in national competitions representing Rensselaer aeronautical engineering students. Club members participate as teaching assistants during this summer program.