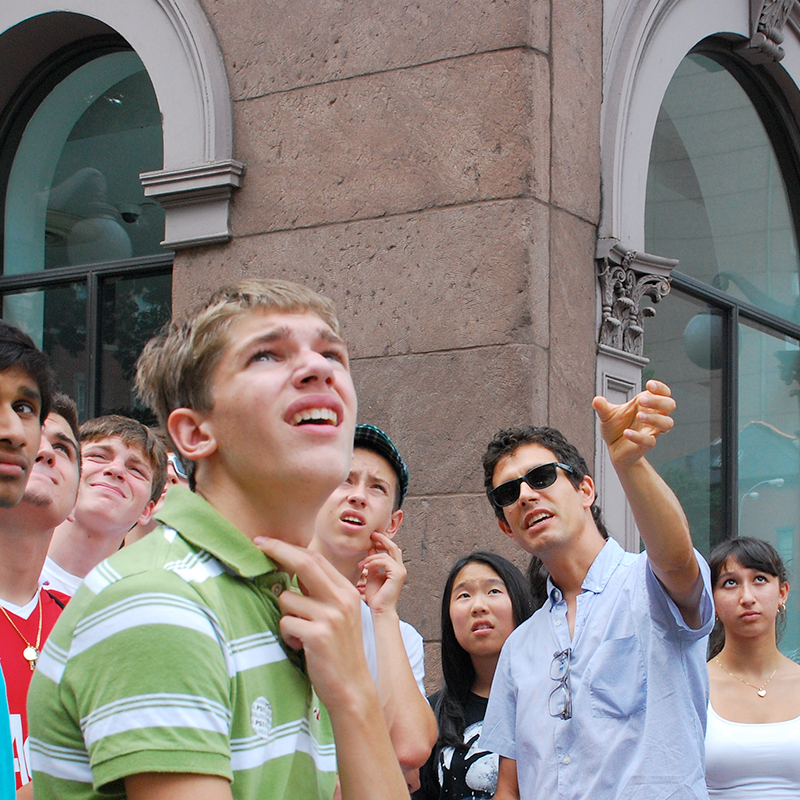 Learn about the theory of architecture, computing and simulation, freehand and extreme drawing, building ecologies and design.
July 6 - July 17, 2020 | Two-Week Program
Rising 10th, 11th, and 12th graders will experience the rigors and rewards of a college-level architecture studio first-hand. The program provides specific architectural training and enables students to make more informed decisions regarding their college careers.
This two-week program focuses on an introduction to the theory of architecture and design, freehand and digital drawing, and how to represent and describe one's work in a clear and convincing manner. Students will be individually critiqued and tutored in design studios, group and individual projects, reviews, and public presentations. 
The core of the experience is studio work. Critique and evaluation of studio work is continuous, and occurs both in one-on-one discussion with instructors and in larger group reviews. Studio work is complimented by a series of lectures discussing the broader context of architectural practice, contemporary projects and practitioners, as well as more technical concerns such as drawing and model making.
The program's structure follows three exercises that build upon each other. The first two exercises, which deal with abstract forms and concepts, are accomplished through modeling and drawing by hand. The final exercise deploys the abstract work in developing a novel architectural proposal -- a small pavilion sited on the Rensselaer campus. This exercise introduces the use of two- and three-dimensional digital tools, and the final deliverables of this program are produced using computer software.
At the end of the program, students will have beginning proficiency in the following software: Rhinceros (3D modeling), Adobe Illustrator (2D drawing), and Adobe Photoshop (image editing).
Students who have completed this program have gone on to apply to the Architecture major offered by Rensselaer's School of Architecture. For additional details regarding the Rensselaer undergraduate experience, in a place where your individual contribution truly matters, visit The Office of Admissions at Rensselaer and check out this Flip Book!
Program Details
Prerequisites: Students who are considering studies in architecture or design with a curiosity about the world in which we live, as well as an interest in art culture and new ideas, are encouraged to apply.
Application details: In addition to the online application, students must submit a copy of their transcript and two letters of recommendation. Supplemental information -- including recommendation letters, transcripts, and so on -- can be photocopies and need not be originals or official copies. Please note that incomplete applications will not be reviewed, so be sure to follow the application directions carefully.
Registration information: Accepted students should register as soon as possible after admission. Once a student has been accepted, they will receive a link providing additional information.
Application link: https://rpi.regfox.com/apply-2020
If you have any questions on how to submit your application, please contact Summer@Rensselaer by calling (518) 276-6809 or via email.
Commuter cost: $1,300
There is a $425.00 non-refundable deposit required in order to reserve the student's spot in the program, once they have been academically accepted. This cost only includes tuition, program materials, and field trip costs; commuters must furnish their own transportation to and from campus. Check-in will be on Monday morning; check-out will be on Friday, after a final studio presentation.
Residential cost: $3,270
There is a $425.00 non-refundable deposit required in order to reserve the student's spot in the program, once they have been academically accepted. This cost includes tuition, program materials, field trips, room and board, and all residential activities. Check-in will be on Sunday afternoon prior to the start of the program; check-out will be on Friday, after a final presentation.
Accepted students will receive ifnormation regarding accommodations, arrival/departure times, and full program details upon registration. Please note that all students will be required to submit health and medical information (including immunization records) before arrival on campus. All residential students must possess medical insurance.
Adam Dayem, an architect and educator based in Brooklyn, NY, is the principal of actual/office, an architecture and design studio founded in 2004. Mr. Dayem received a bachelor of Arts in architecture from UC Berkeley and a Master of Architecture from Columbia University, where he was awarded the McKim Prize honoring the year's most outstanding graduate in Architecture. He subsequently worked at Bernard Tschumi Architects on competitions and projects worldwide, including the New Acropolis Museum. In addition to his courses at RPI, Mr. Dayem has taught at the Pratt Institute of Design, Columbia University, Parsons, The New School for Design, and UPenn; he is also a registered architect in the State of New York.