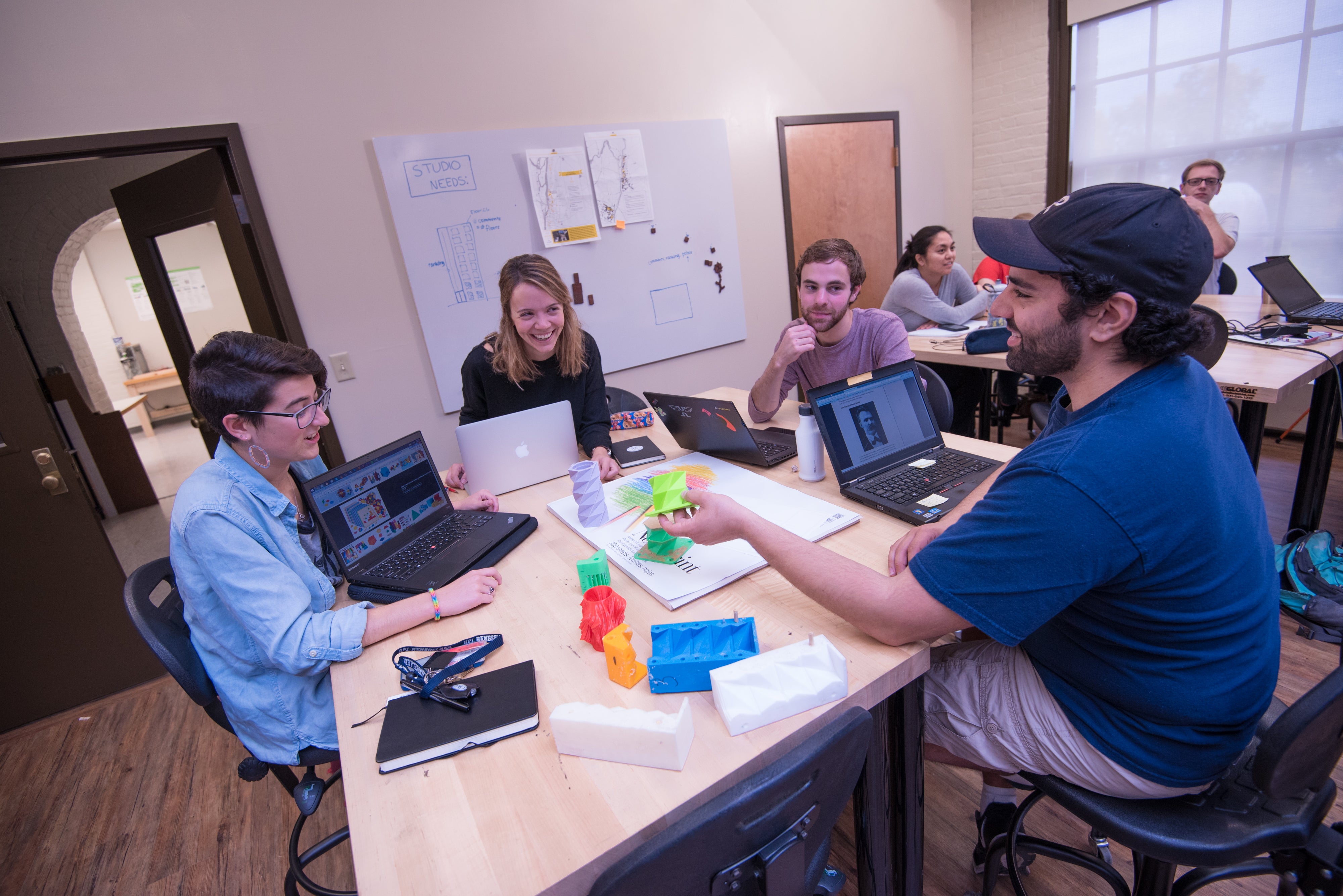 Identify real-world problems and design, create, and market new products through prototypes, mock-ups, and the use of 3D printing technology.
July 13-17, 2020 | One-Week Program
Open to rising 10th, 11th, and 12th graders,this week-long intensive program immerses students in the product and industrial design process, which combines the social sciences, arts, and engineering to develop objects that are aesthetically appealing, functional, and useful.  Facilitated by a product design mentor, program participants will work in small groups to define real-world problems, think about user experiences, rapidly iterate divergent ideas, prototype, build, and pitch their refined concepts.  Students will also use the Design, Innovation, & Society (DIS) Program's wood shop, 3D-printing and digital manufacturing center, modeling and animation lab, and sketching and physical conceptualization spaces, as well as work with Rensselaer faculty and advanced students from the DIS Program.
During this program, participants will:
Identify real-world issues and work through an entire design process, starting with the potential new solution, and then moving on to the creation of mock-ups and prototypes and product pitching.
Learn a host of skills associated with turning ideas into reality, including sketching, modeling, user experience testing, CAD, rapid manufacturing, and lighting and rendering presentation software.
Develop original concepts in response to a broad prompt. Groups will work together— as well as with product development mentors — to design, critique, test, iterate, and push their concepts in more robust and innovative directions.
Students who have completed this program have gone on to apply to the Product Design and Innovation program offered jointly by Rensselaer's Schools of Engineering, Architecture, and Humanities, Arts, and Social Sciences. For additional details regarding the Rensselaer undergraduate experience, visit the Office of Admissions at Rensselaer.
Program Details
Prerequisites: Students looking to explore careers in product design, industrial design, architecture, art, marketing, user experience design, or the applied social sciences are encouraged to apply for this program. Applications will be selected based on GPA, extra curricular activities, and reference letters.
Application details: In addition to the online application, students must submit a copy of their transcript and two recommendations. Supplemental information including recommendation letters, transcripts, etc. can be photocopies and need not be originals or official copies. Please note that incomplete applications will not be reviewed, so be sure to follow the application directions carefully.
Application link: https://rpi.regfox.com/apply-2020
If you have any questions on how to submit your application, please contact Summer@Rensselaer by calling (518) 276-6809 or via email.
Commuter cost: $850.00
There is a $425.00 non-refundable deposit required in order to reserve your spot in the program, once the student is academically accepted. This cost includes tuition and program materials only. Commuters must furnish their own transportation to and from campus. Check-in will be on Monday morning; check-out will be on Friday, after a final presentation.
Residential cost: $1,835.00
There is a $425.00 non-refundable deposit required in order to reserve your spot in the program, once the student is academically accepted. This cost includes tuition, program materials, field trips, room and board, and all residential activities. Check-in will be on Sunday afternoon prior to the start of the program; check-out will be on Friday, after a final presentation.
Accepted students will receive information regarding accommodations, arrival/departure times, and full program details upon registration. Please note that all students will be required to submit health and medical information (including immunization records) before arrival on campus. All residential students must possess medical insurance.
Dr. James Malazita is Assistant Professor of Science & Technology Studies at Rensselaer, and teaches studio-based design courses in the Design, Innovation, & Society program. Dr. Malazita's research, which focuses on blending the social sciences with arts, computer science, and design, has been supported by the National Endowment for the Humanities, the Popular Culture Association, and RedHat Inc.; he has also published widely in the fields of creative design, game design, engineering, and the social sciences.