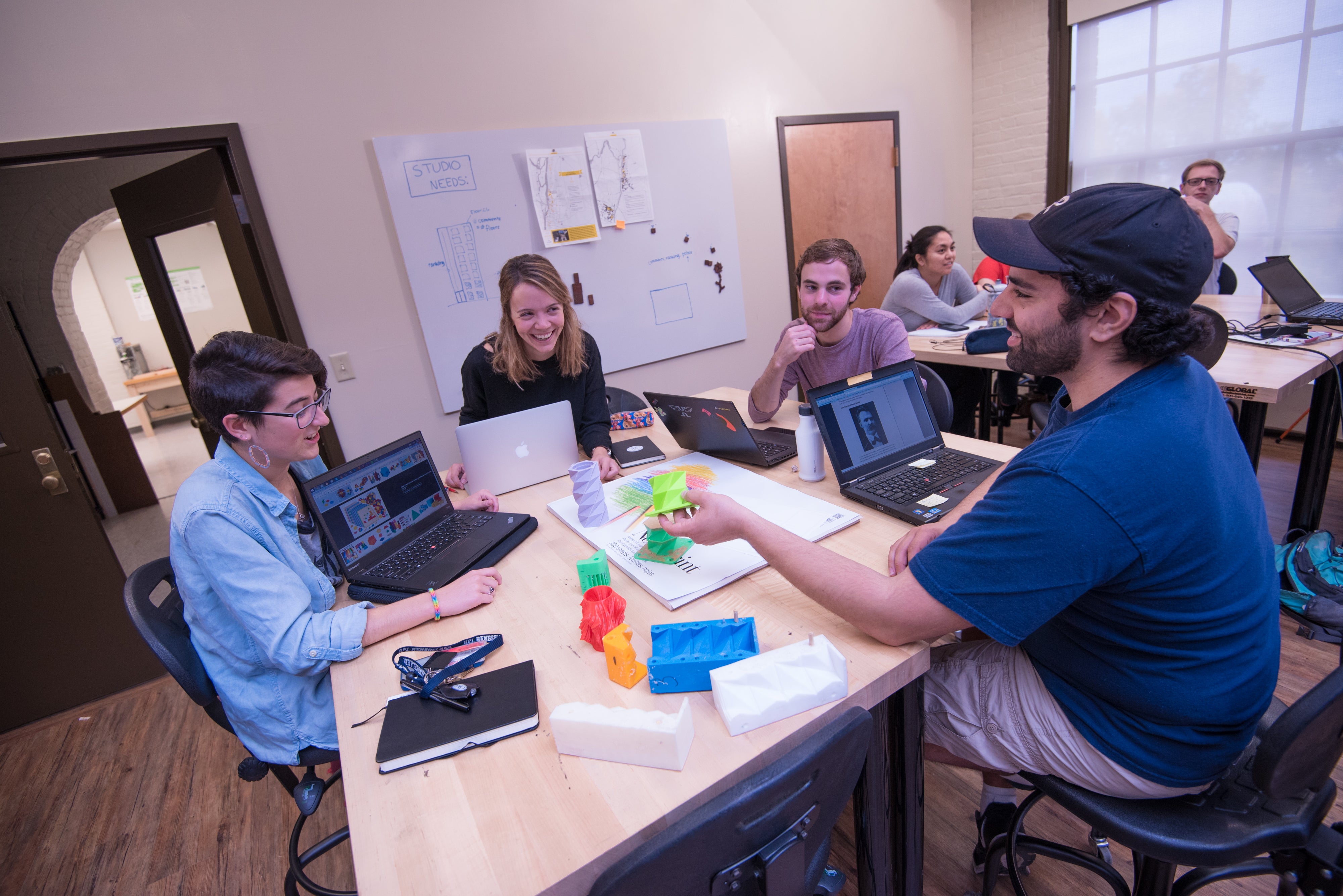 Led by established RPI professors of various fields and supported by RPI Student Assistants, students in the program will explore cutting-edge interdisciplinary topics and career paths that integrate disciplines in science, technology, engineering, art, mathematics, and medicine. This is a project-based program that combines hands-on discovery with classroom learning.

What You Will Learn: 
The program encourages students to think outside the box and go beyond a single discipline, realizing their potential as interdisciplinary engineers and scientists. Over the course of two weeks, participants will learn about a variety of undergraduate majors and career paths from a team of Rensselaer faculty working across departments. 
Students will work on small-group projects culminating in a final reception, where teams will present their research and findings at the conclusion of the program. A strong focus will be placed on developing effective written technical communication and presentation skills.
Final Schedule from the 2023 Program
Program Details
Prerequisites: Students looking to explore a career in engineering, science, technology, and especially their crosscutting disciplines, are encouraged to apply for this program. This program is designed for rising 9th-12th grade students, graduating seniors may also apply.
Registration: Registered students will receive updates with program information starting mid-June. Please make sure you check emails.
Application/Registration Links:
TBA
Please self report your best known GPA and other possible scores and experiences during your application/registration.
Questions?: If you have any questions on how to submit your application, please contact Summer@Rensselaer staff at (518) 276-6809 or via email. Please also feel free to contact Program Director Professor Liu at email.
Students must furnish their own transportation to and from campus. Check in takes place from 9-9:30am, with class beginning promptly at 9:30am on Monday, and ending at 4pm daily (unless otherwise specified-field trips). The final Friday will conclude with a presentation, students are free to leave at the conclusion of the studio presentation.
Accepted students will receive information regarding full program details before program starts. Please make sure you check emails (the email addresses you put in registration forms) frequently. If additional email addresses are needed for contact, please let Professor Liu and her team know through email.
What to bring:
Comfort clothing and shoes ready for walking and hands-on activities. For certain days that involve machine shops, we will let students know ahead of time to wear pants and close-toe shoes (not the first day).

Laptop or Chromebook is required. Students will need to learn certain engineering tools through the program. If you need help for laptop rental, please reach out the office ahead of the time.
Backpack, pens/pencils, notebook (for sketches, calculations, and notes taking), water bottle (for hydration throughout the day), and cell phone (only for contact).
The summer program will provide other materials and buffet lunch.
Nearby Hotel locations if needed:
Hilton Garden Inn Troy
Courtyard by Marriott Albany Troy/Waterfront
Best Western Plus Franklin Square Inn Troy/Albany
Program Director: Dr. Emily Liu is Professor and Department Head of Industrial and Systems Engineering and Professor of Mechanical, Aerospace, and Nuclear Engineering at Rensselaer Polytechnic Institute.
Professor Liu's research interests include: community resilience, disaster recovery, and disaster communications; use of Scattering in nanotechnology and polymer science, such as soft colloidal systems; Molecular Dynamics to Phase-Field simulations of nuclear fuel and cladding materials; radiation damage; experimental validations of nanoscale to mesoscale simulations; energy policy and energy related economic issues; and the measurements and calculations of inelastic neutron cross sections.
Project Director: Dr. Asish Ghosh is Professor of Mechanical, Aerospace, and Nuclear Engineering at Rensselaer Polytechnic Institute.
Professor Ghosh has more than 25 years of experience in industry (e.g. GE Healthcare, GE Global Research, Philips etc.), before coming to Rensselaer Polytechnic Institute. He teaches Inventor's Studio courses, and mentors undergraduate and graduate students to innovate and design, write provisional patents, and research journal papers etc. In the last 6 to 7 years, on an average every year, about 9 to 10 undergraduate Inventor's Studio students write provisional patents, and about 3 to 4 undergraduate Inventor's Studio students launch startups. Professor Ghosh is a Co-Director of the following certificate programs at RPI, such as "Lean Design for Six Sigma – Innovation, and Product Design and Development", "Lean Manufacturing", and "Engineering Innovation for Society" etc.
RPI Inventor Studio students have gone on to start many companies. And RPI graduates have founded major companies from Vicarious Visions to NVIDIA, and from Glydeways to Rivian.
Program Administration: Summer@Rensselaer, SOAPS@rpi.edu